In this article, we have curated a list of the best AI app development companies, each distinguished by its expertise, innovation, and client satisfaction.
AI is a monumental innovation. It is transforming how we interact with the digital world. Recognizing the pivotal role of AI in shaping the future, our latest article dives into the realm of AI app development. We meticulously explore and highlight the most exemplary AI app development companies.
These trailblazers are not just coding apps; they are crafting intelligent solutions that redefine user experiences and push the boundaries of what's possible. Join us in uncovering these industry leaders who are setting new standards in AI application development
Top AI App Development Companies
1. Waverley Software
Website: WaverleySoftware.com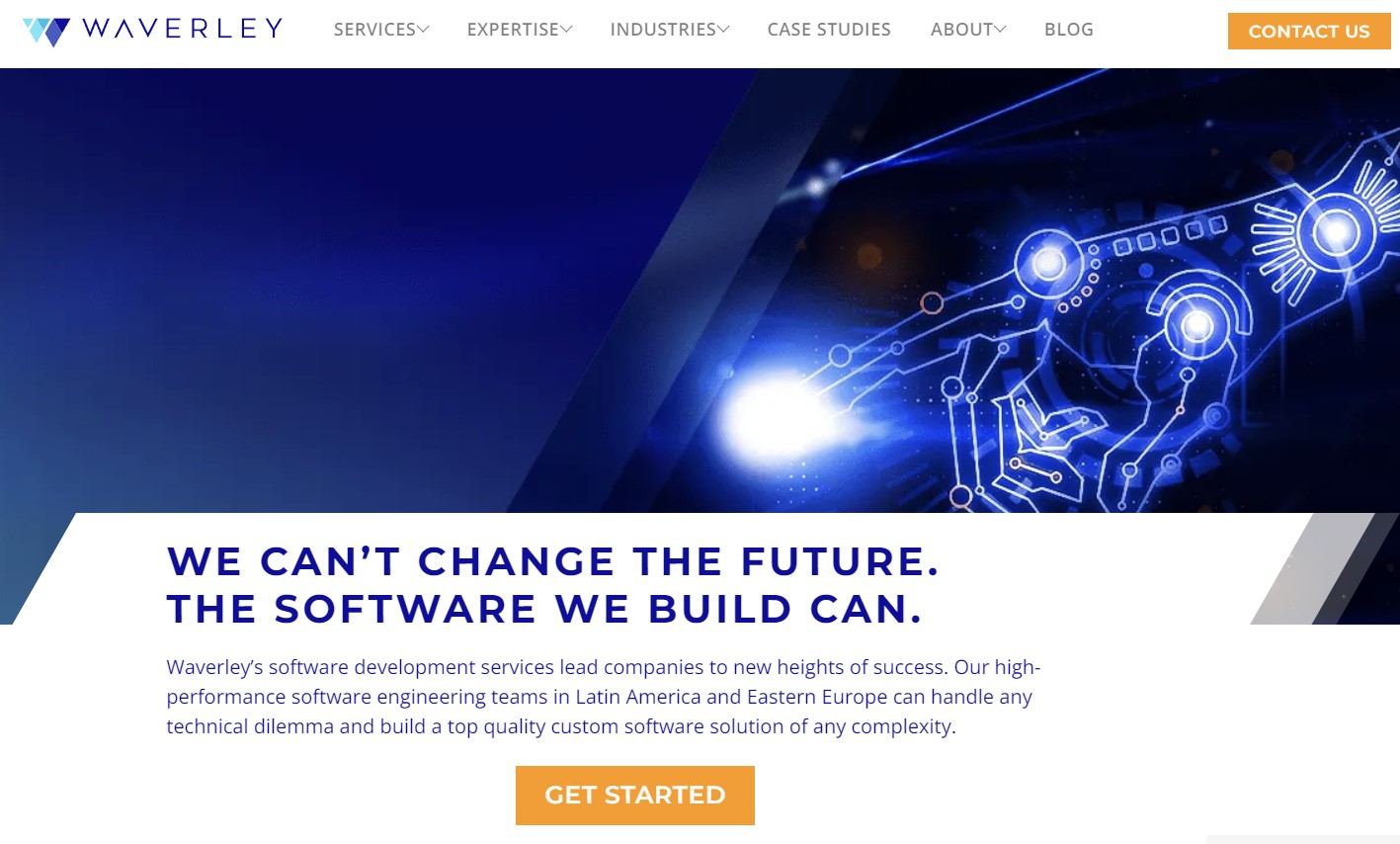 Key Specifications:
Offers services like software product development, dedicated development team, digital transformation consulting, and software maintenance & support.
Expertise in AI & Machine Learning, IoT, Cloud & DevOps, Mobile & Web Development.
Description: Waverley Software provides software architecture services for designing and building software products or integrating new tools into existing systems​
​They specialize in AI and machine learning, developing data-driven products such as chatbots and image processing tools. Their IoT expertise includes building software for IoT, smart home, and robotics devices. They offer cloud & DevOps solutions, including cloud infrastructure setup, cloud migration, and support for cloud platforms. Additionally, they provide digital transformation consulting to modernize operations and leverage digital technologies, as well as custom mobile app and web development.
Pros:
Wide range of services covering software development, AI, IoT, cloud, and DevOps.
Strong focus on digital transformation and leveraging new technologies.
Offers dedicated development teams and comprehensive support and maintenance services.
Cons:
The broad scope might not cater to clients seeking highly specialized expertise in a specific area.
As a global company, communication and project coordination across different time zones may be challenging.
2. Rootstrap
Website: Rootstrap.com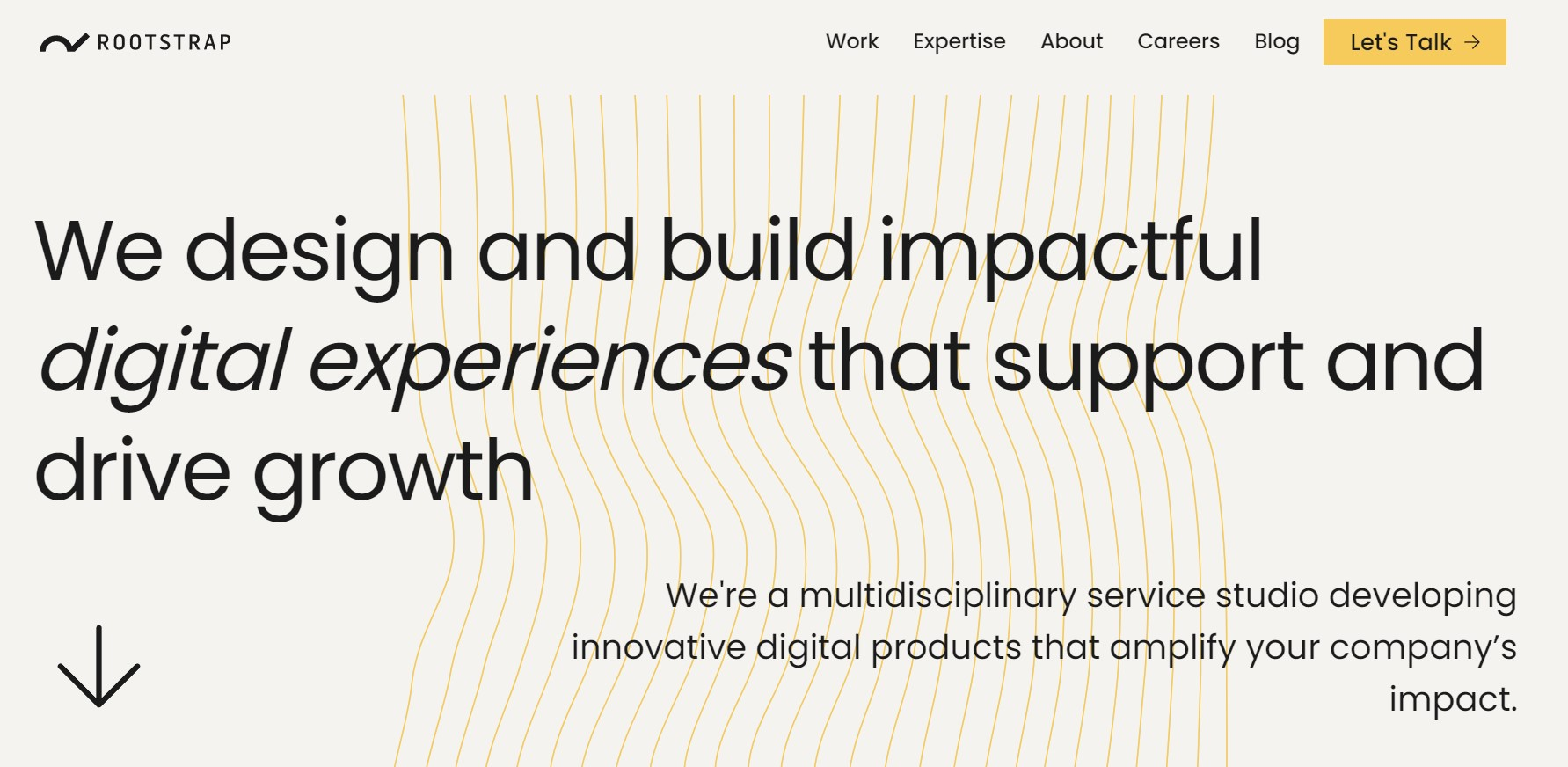 Key Specifications:
Focus on designing and building impactful digital experiences.
Offers a range of services including Design and User Experience, Product Strategy, Web and Mobile Development, Cloud & DevOps, Artificial Intelligence, and Quality Assurance.
Description: Rootstrap is a multidisciplinary service studio developing innovative digital products. They offer UX/UI design, accessibility and ADA compliance, product strategy, user research, and visual design systems.
Their web and mobile development services include backend and APIs, code audits, and QA testing. They also provide cloud consulting, infrastructure management, DevOps, and cloud migration services. In the field of AI, they work on NLP, generative AI, end-to-end projects, and AI ethics. Additionally, they offer QA audit, accessibility testing, performance testing, and QA automation​
Pros:
Comprehensive service offerings covering design, development, cloud services, and AI.
Focus on user-centered design and product strategy.
Capabilities in cutting-edge technologies like AI and cloud computing.
Cons:
The broad scope of services might not cater to clients looking for highly specialized expertise in a particular area.
As a multidisciplinary studio, their focus may be more on innovation and design than on traditional software development.
3. LeewayHertz
Website: LeewayHertz.com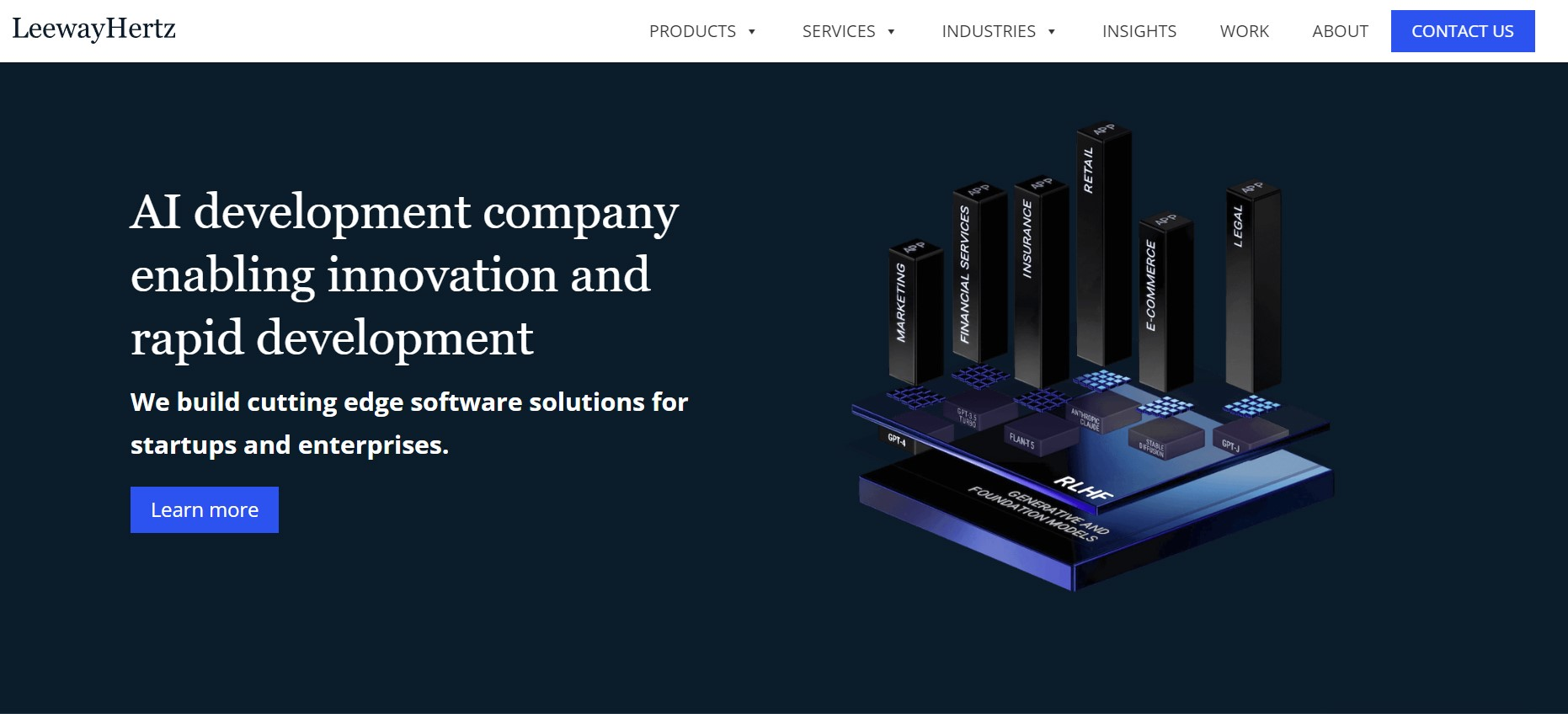 Key Specifications:
Specializes in generative AI, including development, integration, and consulting services.
Offers services in adaptive AI development, transformer model development, large language model development, and AI chatbot development.
Provides expertise in AI, ML Model Engineering, MLOps Consulting Services, and Data Analytics​
Description: LeewayHertz focuses on AI development for startups and enterprises, offering a range of services in generative AI, including the development of ChatGPT and Stable Diffusion models, as well as consulting and integration services.
​​​They also specialize in adaptive AI, transformer model development, and large language model development. Their AI services extend to chatbot development and AI as a service, alongside hiring services for AI engineers and data scientists.
Pros:
A broad range of AI-related services, from development to consulting.
Specialized expertise in generative and adaptive AI technologies.
Offers hiring services for AI engineers and data scientists, facilitating resource scalability.
Cons:
May not cater to businesses looking for non-AI-specific software development services.
The focus on cutting-edge AI technologies could be overwhelming for startups or businesses new to AI.
4. 10Pearls
Website: 10Pearls.com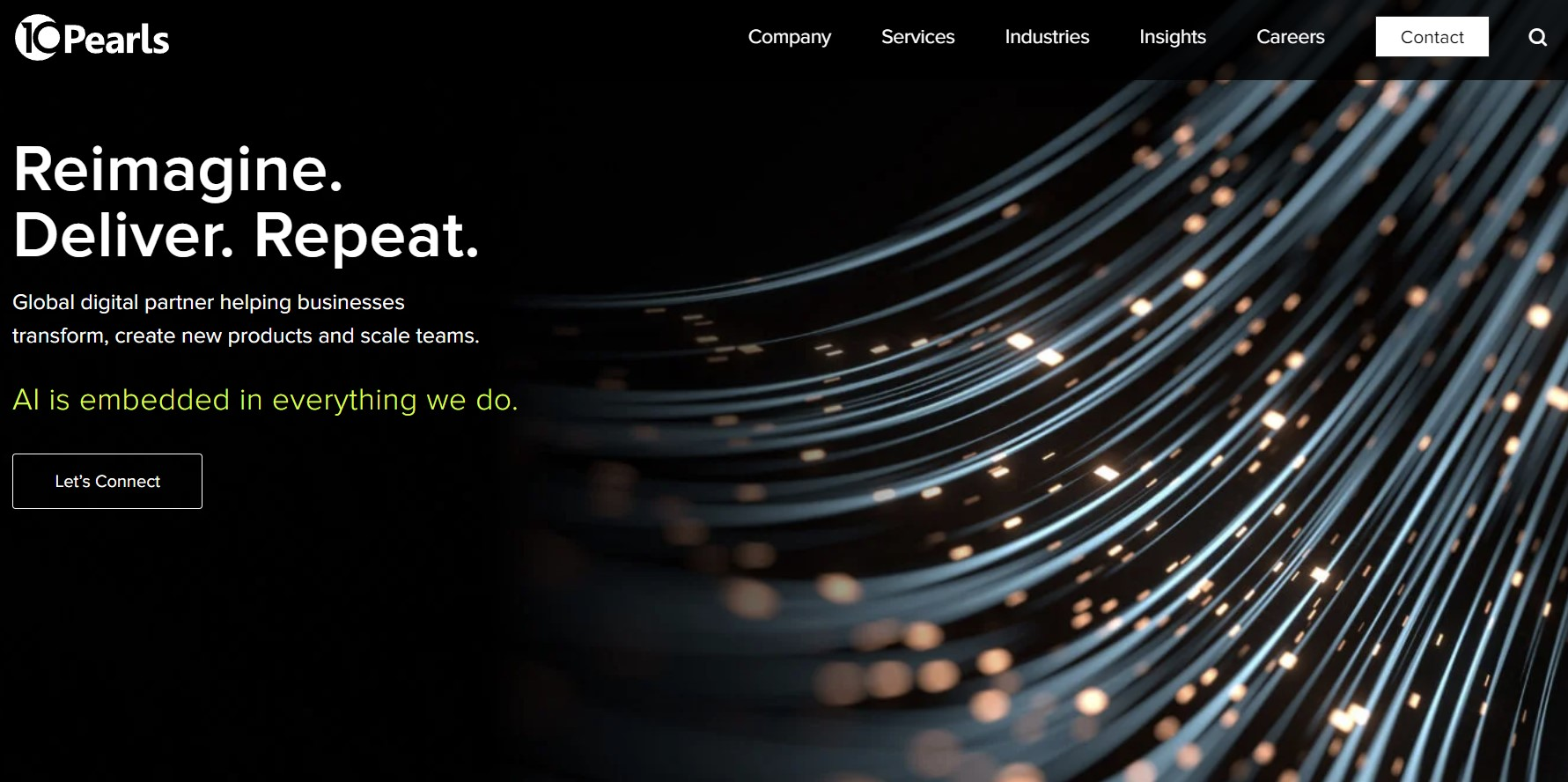 Key Specifications:
Offers a wide range of services including AI, sentiment analysis, computer vision, IoT, voice & language processing, chatbots, AR/VR, Blockchain, NFT, and Metaverse​
Focused on designing transformational digital products and experiences​
Provides modernization, automation, and agile development team extension services.
Description: 10Pearls designs innovative digital products and experiences, driving business value and customer impact. They offer services in a wide array of emerging technologies, including AI, IoT, AR/VR, blockchain, and the metaverse​
​They emphasize the modernization of existing technology, and re-architecting platforms and applications for improved performance and user experience. They also focus on automating manual business processes for better efficiency and engagement and extend agile development teams to accelerate digital transformation.
Pros:
Wide-ranging expertise in modern and emerging technologies.
Emphasis on transforming and modernizing existing technology for better performance and scalability.
Offers team extension services to accelerate software delivery and digital transformation.
Cons:
The broad scope of services might dilute their specialization in any single area.
Businesses needing highly specialized AI solutions might find their offerings too diverse..
5. MobiDev
Website: MobiDev.biz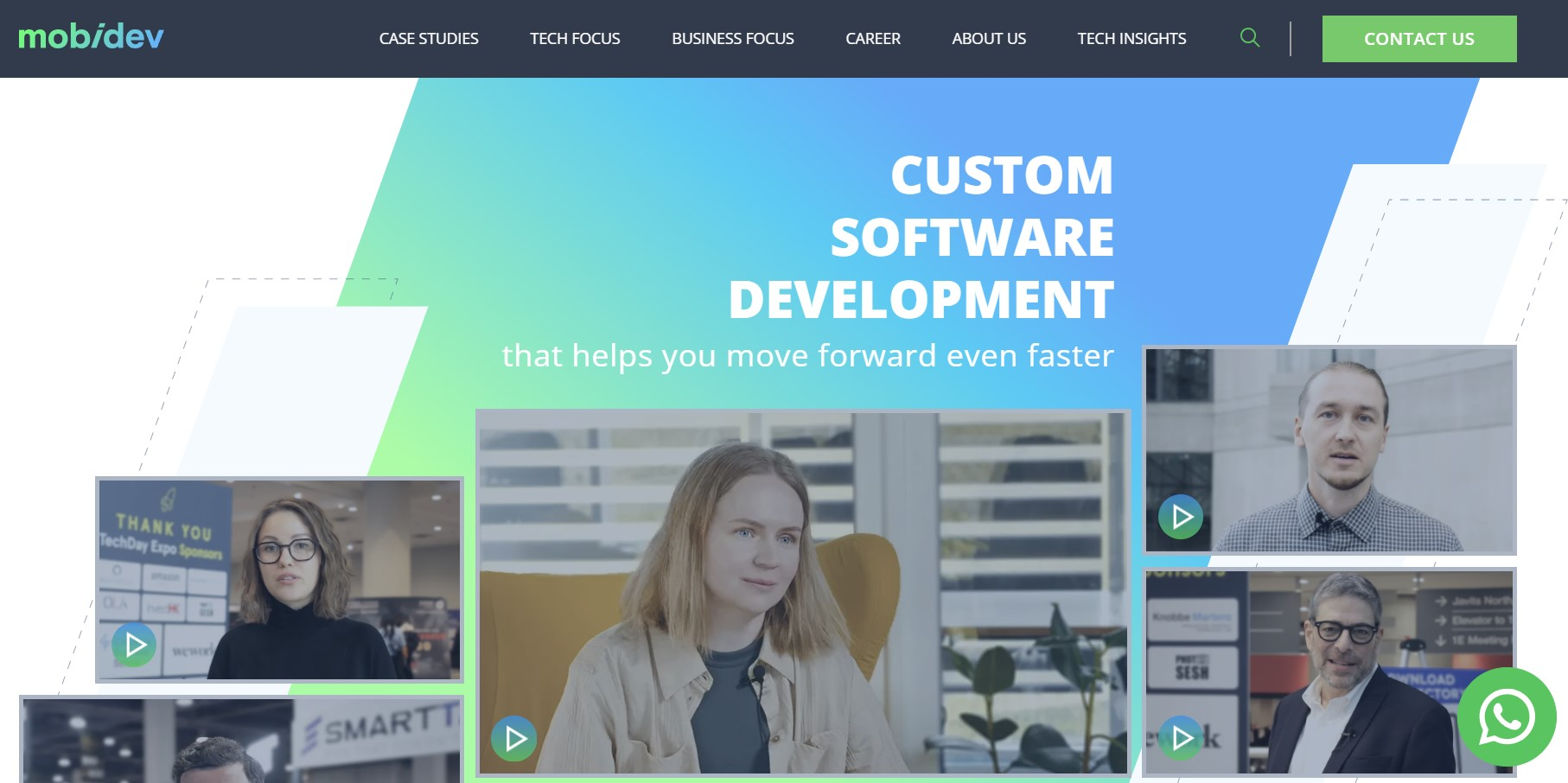 Key Specifications:
Employees: Over 450​.
Years in Business: Over 14​
Service Lines: AI, AR, IoT, Mobile App Development, Web App Development, UI/UX Design​
Description: MobiDev is a custom software development company specializing in AI, AR, and IoT for web and mobile. They employ a variety of technologies, including data science, analytics, machine learning, and computer vision, to bring AI to life​
​Their AR solutions focus on mobile apps and AR wearables, aiming to enrich user experiences. IoT solutions encompass hardware, firmware, software, cloud, data, and security. They also develop mobile and web apps, emphasizing the importance of usability and mobility in modern business. Their UI/UX design philosophy involves using compatible UI elements to reduce development time​
Pros:
Diverse expertise in AI, AR, IoT, mobile, and web app development.
Emphasis on usability and customer-centric designs.
Broad service range catering to various technological needs.
Cons:
May not be specialized enough for businesses seeking highly specific AI or AR expertise.
The broad range of services could lead to challenges in maintaining high-quality standards across all areas.
6. AIBrain
Website: AIBrain.com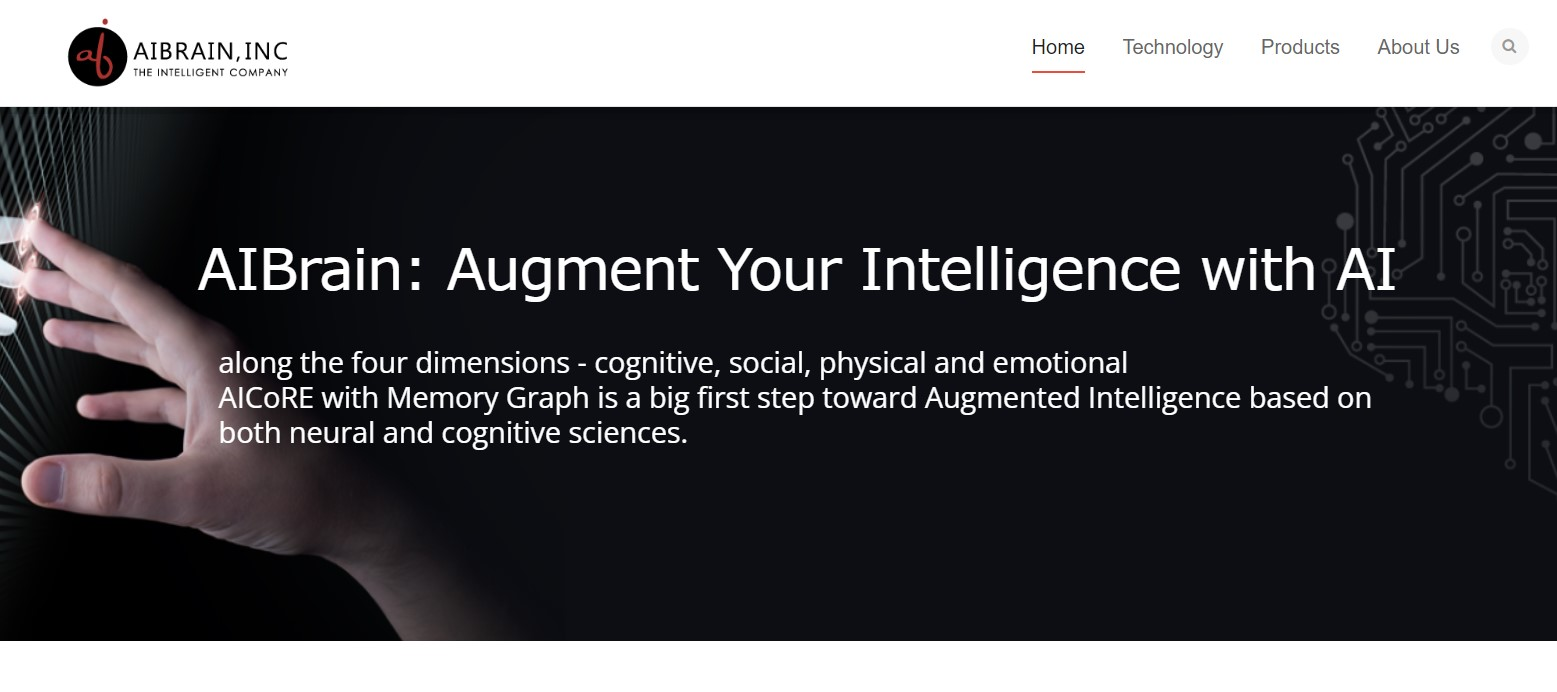 Key Specifications:
Located in Palo Alto, California.
Recognized for its participation in AI events and contributions to AI technology in entertainment and education​
Develop products like SAIVA (Sports AI Virtual Assistant) and robotic AIs like Tyche and Gretchen​
Offers AI educational programs such as AI Product Manager and Turing Football AI Academy​.
Founded by Richard Shinn, Ph.D. in AI from Georgia Institute of Technology​
Description: AIBrain is a tech startup focused on augmenting human intelligence with AI. It has achieved notable recognition in AI events and by Market Research firms as a leading AI company. AIBrain's projects include Tyche, an award-winning innovation, and Futurable 1, a top AI game by Google Indie Game Festival​
​It has developed SAIVA for sports AI applications and robotic AI products like Tyche and Gretchen. Additionally, AIBrain has launched educational programs like the AI Product Manager for non-AI professionals​
Pros:
Strong emphasis on innovative AI solutions and educational initiatives.
Notable achievements and recognition in the AI field.
Specialized in developing practical AI applications and robotic AI.
Cons:
As a startup, it might face scalability challenges for larger projects.
Focus on specific AI applications may limit versatility in addressing a broader range of business needs.
7. ValueCoders
Website: ValueCoders.com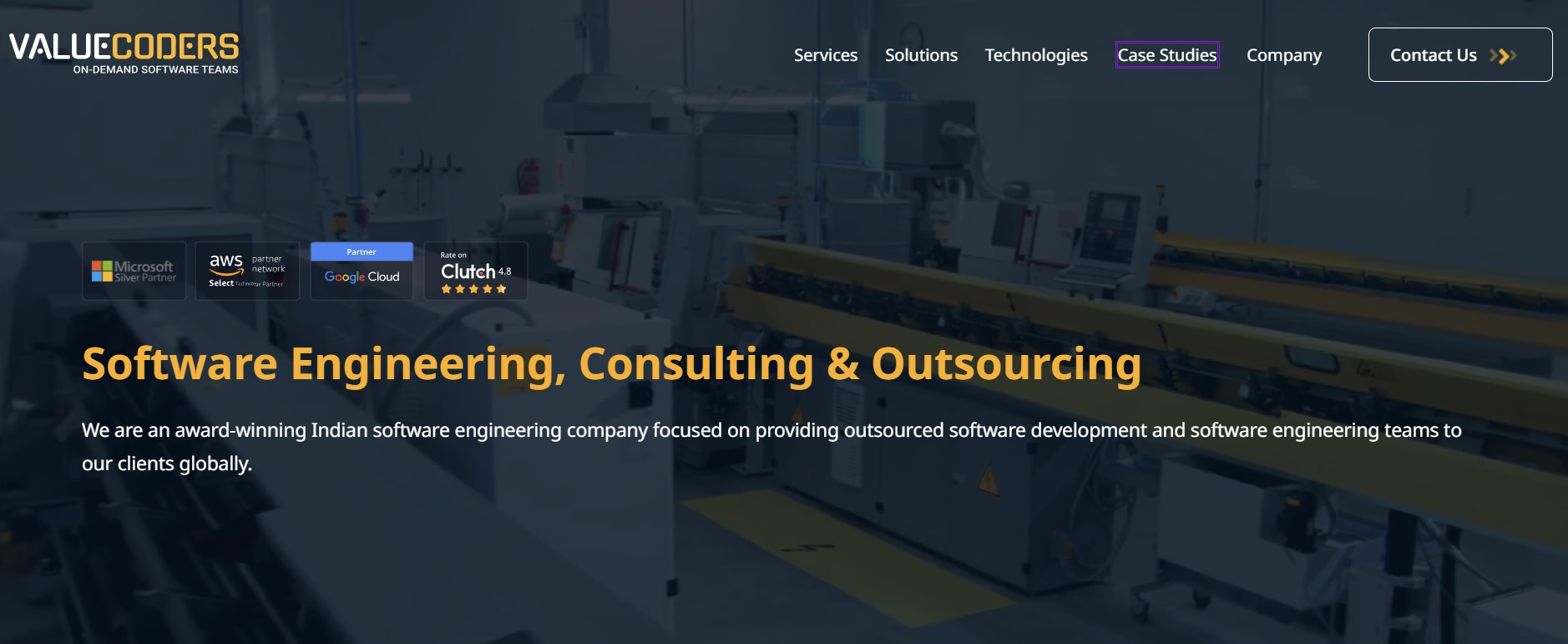 Key Specifications:
Recognized as an award-winning Indian software engineering company​
Trusted by startups and Fortune 500 companies alike​
Services include Application Development, QA and testing, eCommerce, Data Engineering, Cloud Services, and AI & ML​.
Description: ValueCoders is focused on providing outsourced software development and engineering services, driven by top software engineering talent in India.
​They develop customized software solutions using the latest technologies and industry best practices, with a goal to help businesses achieve their digital goals and drive growth​.
The company offers scalability and access to a talented pool of professionals, integrating seamlessly into existing workflows. Their business domain knowledge, technology expertise, and proven methodologies yield high-quality solutions that add value to businesses.
Pros:
Extensive range of services covering various aspects of software development.
Proven track record with startups to Fortune 500 companies​
Emphasis on quality, reliability, and performance in software solutions​
Cons:
May face challenges in maintaining consistent quality across such a broad range of services.
The outsourcing model might not suit businesses looking for more direct control over development processes.
8. Backendless
Website: Backendless.com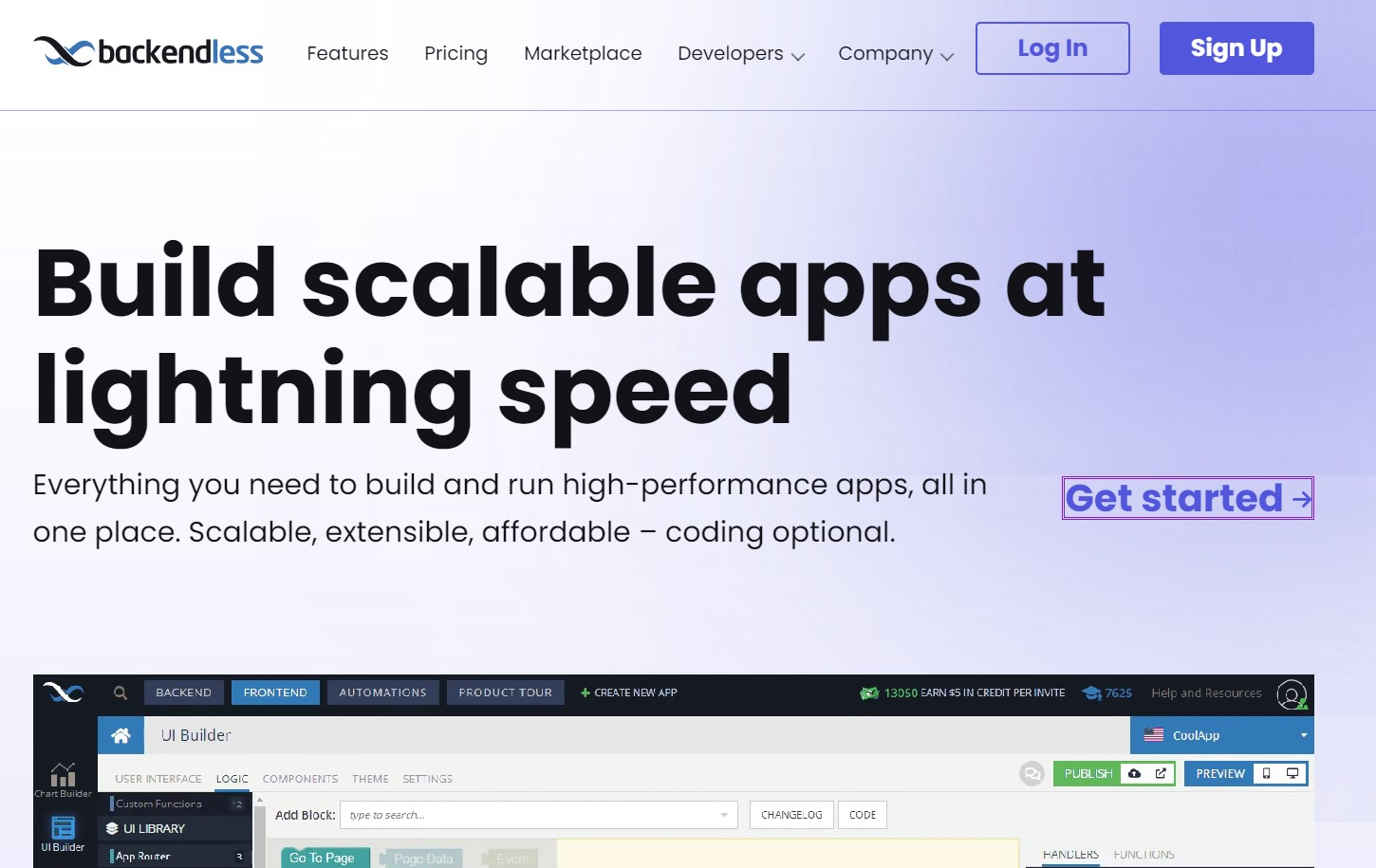 Key Specifications:
Offers a platform for building scalable, high-performance apps with an option for coding or codeless development.
Provides a complete toolset on one platform, reducing dependency on third-party services.
Includes flexible hosting options: serverless, self-hosted, or managed.
Description: Backendless is a visual app development platform that enables the creation of scalable applications at lightning speed. It offers a powerful platform that includes frontend and backend development tools.
​​​​​The platform features a visual UI Builder for quick and elegant user interface creation. Their codeless frontend and backend logic allow for rapid development and integration. Backendless Cloud provides a centralized, secure, cloud-based platform, while Backendless Pro offers dedicated instances on-premise or on cloud servers. Managed Backendless is also available for a more hands-off approach.
Pros:
Flexibility in app development with both code and codeless options.
Comprehensive toolset for both frontend and backend development.
Variety of hosting options to suit different business needs.
Cons:
The platform's breadth may be overwhelming for businesses seeking more straightforward solutions.
Some businesses may prefer traditional coding over codeless development.
9. Appy Pie
Website: AppyPie.com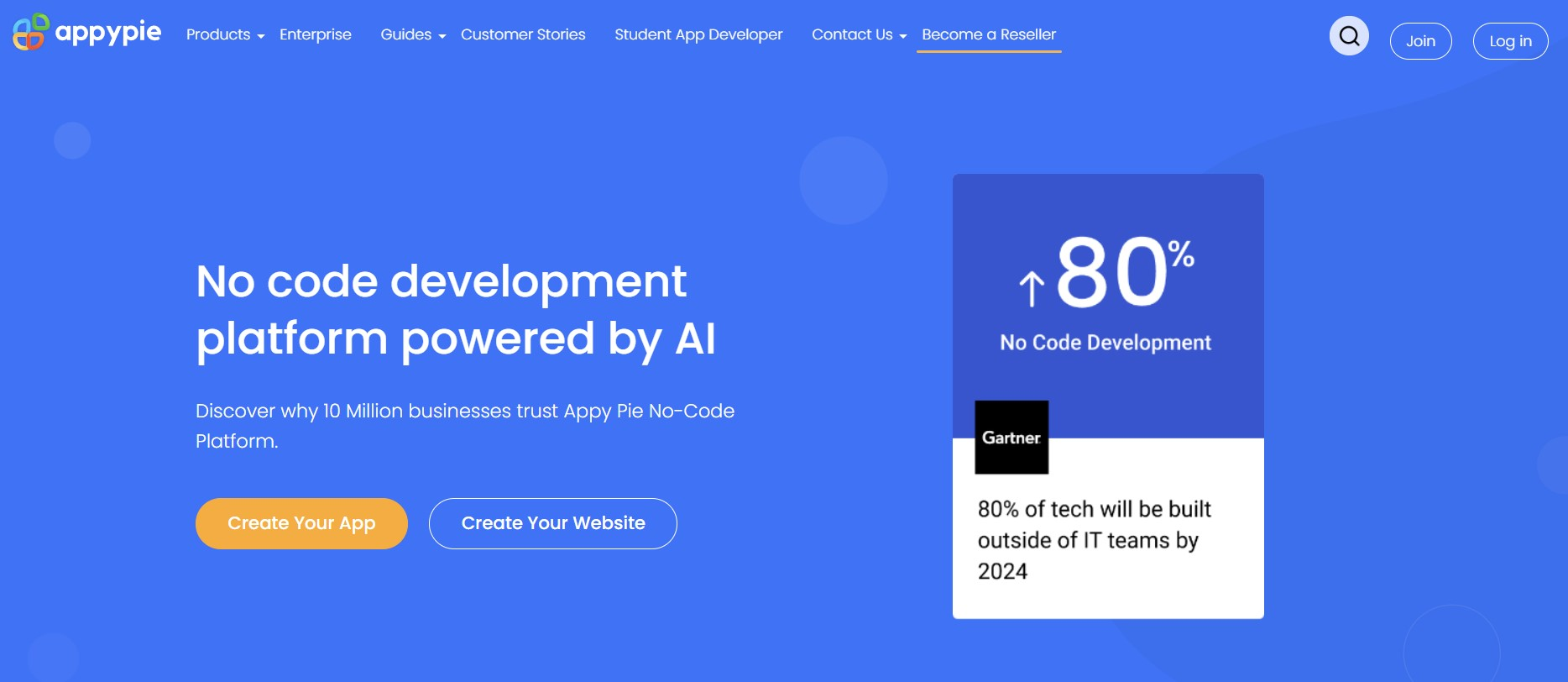 Key Specifications:
Offers a no-code development platform powered by AI​.
Provides services like AI website builder, on-demand delivery app builder, business app builder, and more.
Features in their design platform include an AI text-to-image generator, an AI photo enhancer, and an extensive collection of AI-generated templates.
Offers workflow automation and business process automation software, including Helpdesk, Live Chat, and Chatbot Builder.
Description: Appy Pie is a no-code development platform that enables the quick and affordable creation of apps and websites without traditional coding expertise. It's designed to be user-friendly with drag-and-drop functionality and offers seamless integrations with other data sources.
​Their AI website builder and app builders cater to various niches, including e-commerce and restaurant apps. The platform also offers workflow automation to create efficient integrations and business process automation tools like Helpdesk and Live Chat.
Pros:
User-friendly platform is suitable for individuals and businesses regardless of their coding background.
Offers a range of AI-powered design and app-building tools.
Provides cost-effective and time-efficient solutions compared to traditional development methods.
Cons:
May not offer the same level of customization and functionality as traditional coding.
The no-code approach might limit the complexity and scalability of the applications developed.
ThirdEye Data
Website: ThirdEyeData.ai
Key Specifications:
Offers services in AI & Machine Learning, Generative AI & ChatGPT, Big Data & Engineering.
Provides solutions for Digital Transformation, Task Automation, and Customer Understanding.
Handles various project types including Data Science, AI & ML, Data Engineering, and Big Data Implementations.
Description: ThirdEye Data is a solutions provider specializing in Big Data and AI. Their services include Data Science, AI Consulting, Machine Learning Consulting, and AI Application Development​.
They offer digital transformation solutions like image detection, predictive maintenance, conversational AI, and predictive analytics. Their project types span across industries such as manufacturing, retail, healthcare, energy, oil & gas, and IT. ThirdEye Data focuses on leveraging Data & AI technologies to improve operational efficiencies and enable informed business decisions.
Pros:
Specialized focus on AI and Big Data solutions.
Offers end-to-end services in AI, from consulting to application development.
Tailored solutions for a variety of industries, indicating versatile expertise.
Cons:
May not provide as broad a range of software development services as more generalist firms.
Their specialized focus might limit their appeal to clients looking for more diverse IT services.
How AI is Transforming Businesses in 2024
In order to remain successful in today's market, businesses need to embrace AI as an essential tool for maintaining competitiveness and driving innovation.
Also, your company needs to integrate AI technologies, machine learning, and processing natural language, to operate, interact with customers, and analyze data in unprecedented ways. Businesses are embracing AI-powered apps at a fast pace. They unlock a wide array of benefits that extend far beyond conventional practices, significantly impacting their bottom line and shaping the future of their industries.
Enhanced Customer Experiences: Pioneering Personalization
AI-driven chatbots and virtual assistants have revolutionized customer interactions. By providing instant, personalized customer support, businesses can enhance overall satisfaction and foster unwavering customer loyalty.
These intelligent systems address customer queries promptly and anticipate their needs, creating seamless and meaningful experiences.
Data-Driven Decision Making: Empowering Strategic Insights
AI algorithms can process vast datasets, and deliver actionable insights that empower businesses to make informed decisions.
By identifying patterns, trends, and customer behaviors, AI facilitates processes and strategic planning, allowing organizations to adapt swiftly to market dynamics and consumer demands.
Efficiency Redefining Process Automation
The advent of AI-powered automation has transformed business operations by streamlining repetitive tasks. By reducing manual efforts, employees can divert their focus towards strategic, value-added activities.
This heightened efficiency not only boosts productivity but also catalyzes innovation within the workforce, driving the organization toward new horizons of growth.
Personalized Marketing Campaigns: Precision in Engagement
AI algorithms delve deep into customer behavior and preferences, enabling businesses to craft targeted marketing campaigns. This precision ensures higher engagement rates, improved return on investment, and a profound understanding of customer sentiments.
Personalized marketing captivates the audience and establishes an emotional connection, enhancing brand loyalty.
Predictive Analytics: Anticipating Tomorrow's Trends
AI models have transcended traditional analytics by predicting future trends and customer behaviors. By leveraging these insights, businesses can anticipate market demands, optimize inventory, and proactively respond to shifting consumer preferences.
Predictive analytics not only minimizes risks but also provides a competitive edge, enabling organizations to stay ahead in the ever-changing business landscape.
Fraud Detection and Security: Safeguarding Trust
AI algorithms meticulously analyze data patterns, identifying anomalies and potential threats. This capability is invaluable in fraud detection and enhancing cybersecurity measures, safeguarding businesses and their customers from malicious activities.
By ensuring data integrity and customer trust, organizations can cultivate lasting relationships, driving loyalty and credibility.
Smart Manufacturing: Redefining Production
AI-driven predictive maintenance and quality control have revolutionized manufacturing processes. By minimizing downtime and defects, businesses can ensure efficient production workflows. This not only enhances operational efficiency but also significantly reduces costs.
Smart manufacturing paves the way for sustainable growth, allowing companies to maintain high-quality standards while optimizing resources.
Conclusion
The transformative potential of AI in reshaping business landscapes cannot be overstated. By partnering with reputable AI app development companies like MobiDev, AIBrain, LeewayHertz, and ValueCoders, businesses can unlock the full spectrum of AI benefits and stay ahead in the competitive market. Embracing AI technologies not only enhances operational efficiency but also creates new avenues for innovation, ensuring sustainable growth and success in the digital age.
Frequently Asked Questions
Q1: How do AI-powered applications benefit businesses?
AI-powered applications offer numerous benefits, including enhanced customer experiences through personalized interactions, data-driven decision-making from predictive analytics, efficiency gains from process automation, and targeted marketing strategies. These benefits lead to improved customer satisfaction, increased productivity, and competitive advantages.
Q2: Are these AI development services suitable for all business sizes?
Yes, these companies cater to a diverse range of clients, from startups to large enterprises. Their services are scalable and customizable, ensuring that businesses of all sizes can leverage AI technology to meet their specific needs and objectives.
Q3: How do these companies ensure the security and integrity of AI applications?
These AI app development companies prioritize security and data integrity. They employ advanced cybersecurity measures, and regular data audits, and adhere to industry-standard compliance and regulations to protect the applications and the data they handle.
Q4: Can these companies help with integrating AI into existing business processes?
Absolutely. These companies specialize not only in developing new AI applications but also in integrating AI technology into existing business processes and systems. This integration enhances operational efficiency, streamlines workflows, and provides businesses with the tools to adapt to the evolving digital landscape.